shadows and tall tree - retro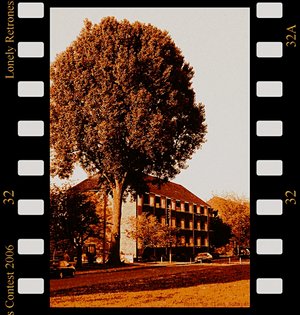 This tree is the largest for several miles.
This was my entry for the lonely retroness contest. It did not make it to the final round.
Tech notes:
This photo was taken specifically for this competition. It has not been cropped. Darkroom work amounts to little more than what a sepia filter does (*), but I did it manually step by step to get better control. I slightly increased polarization (lighter light+darker dark) as I did not want a "soft" 1930-ish look, more like a "hard" 1972-4 look. Personally I think I nailed it, feel free to hold another opinion.
----
(*) What a sepia filter does: Desaturation and change of colour space so that the photo becomes monochrome, but having some coloured tone in stead of greyscale (often brown-ish/ yellow-ish).