brave new world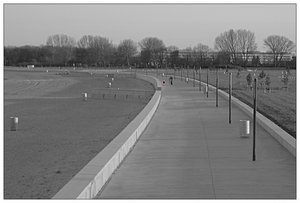 This is a piece about modern architecture and urban planning, but also -- metaphorically -- about modern life in general.
The child in this picture walks with tiny steps on a concrete road that seems to go on forever. Concrete left, right, and center; in front, behind, and below.
The photo is taken at the new Amager Beach in Copenhagen, an artificial beach built as an island in the water a few hundred metres from the previous waterline.
To benefit fully from this piece it must be viewed in a size large enough to clearly see the child. Click for larger size.