kaosteori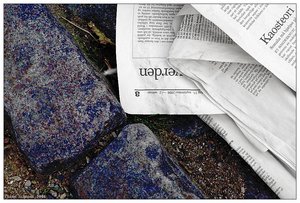 Title is Danish for "chaos theory".
Please take a moment to enjoy the picture for it's creative qualities alone, before you consider the rest of this description:
----------------------------------------
The date of the paper -- which was photographed exactly as found, randomly floating on the street -- is the fifth year anniversary of the demolition of the so-called "Twin Towers". I use the word "demolition" because that word was my very first thought when I saw the event on television as it happened. The paper headline "Kaosteori" ("Chaos Theory") does not refer to this event at all.
About the event, I urge you to please watch this movie: Loose Change - and then form your own opinion. Just watch the whole movie at least one time. It is not longer than a documentary on TV, it has no ads, and the quality is excellent.
Please note: I am not trying to tell you what to think, that's entirely up to you; just watch, and then think for yourself.
Tech notes:
Nothing is arranged, this was shot exactly as found. Darkroom work has been done, but nothing has been added or removed.