up the hill backwards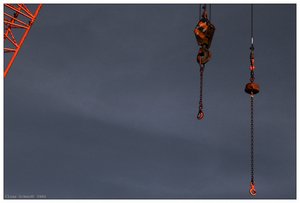 The vacuum created by the arrival of freedom
And the possibilities it seems to offer
It's got nothing to do with you, if one can grasp it
Title credits: David Bowie
-------------------------------------------
Explanation and interpretation
-------------------------------------------
The imagery first
The "orange-grey", or "yellow-grey", or whatever we call the combo has been with me more or less always, or at least for a good while... earlier pieces are eg. "doorstop and roadblock", "drums and triangles", "fat old sun", "orange tower" ... and so on.
It's a powerful one, and ... well, it's charcoal, fire, and smoke...
So, we have these two similar-yet-different objects floating in mid air, and on the opposite side some kind of more solid structure that clearly represents some kind of "base". It is connected to the two objects, not only by means of the colour but also from the diagonal that your eyes draw from the endpoints of the floating objects to the "base". The "weight" of the solid structure left technically balances the picture, as without it the "weight" of the two floating objects would bee too much for the right side.
And then, from experience we know what it is, and we know that outside the picture the three parts are connected. But, that's our experience; we know that they're supposed to be connected - in the picture they're not.
The separation is underlined by the hostile environment these three objects are placed in. First, the blue-ish tone provides a contrast colour to the orange. Second, there's nothing even remotely appealing about that charcoal-blueish-gray landscape, except for the orange objects. It's a desert wasteland with no life - the only sign of life is the orange objects.
The choice of colour also serves to add motion to the picture.. stare at it for a while, and the hooks will seem to move. Just a little bit, but they will.